Posture Treatment Plan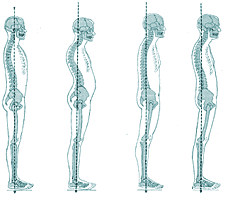 Can you identify with any of the above?
Then you would benefit from a personalised postural treatment plan. The plan consists of four visits to Glasnevin Physical Therapy where your posture will be assessed and a suitable plan specific to you be implemented.
Visit One:
Postural assessment
Your first visit will consist of a full postural assessment. We will assess your current posture, examine joint mobility, look for restrictive or excessive movement, assess individual muscles carrying out unique muscle tests where necessary.
Visits Two, Three and Four:
We will put together a treatment plan which is tailored to your own personal requirements.
The treatment plan will consist of:
Neuromuscular/Physical Therapy
Manipulation & Mobilisation techniques
Frequency Specific Microcurrent
Gentle stretching & rehabilitation exercises

These techniques are all aimed at restoring muscle imbalances, muscle tone and...better posture!

You will also receive good advice on maintaining proper posture through your general daily activities. This is invaluable and may be crucial in preventing problems in the future.

A reduced cost of €220 if you book now. Otherwise normal fee of €240 applies.